My 1992 Dodge Power Ram W150 4x4

It is a 1992 Dodge Power Ram W150 4x4 long bed. Its a loaded LE edition with power mirrors, locks, doors, cruise, tilt steering, AC, etc. It also has a Meyer plow. Its got 3.54 gears (9.25" rearend) and a 318ci Magnum V8. The tranny is an A518 auto.

I bought it to be able to get around in winter (my Dak doesn't even want to get out of the driveway sometimes) and also to trailer the Dak to the track.

These pics were taken almost immediately after I purchased it. Since then I have performed the following mods:


removed the running boards (they were starting to come apart anyway)
4" Rough Country suspension lift
33x12.50 Cavalier Mud King tires on 15x10 steel Rock Crawler rims
Warn M12000 winch
triple batteries (2650 cranking amps - when my "stock" 650 battery dies I'll replace it with a 1,000, so that number will jump to 3,000)
custom steel front bumper
Grizzly brush guard
two Rally offroad lights mounted on brush guard


I'll get some updated pics eventually...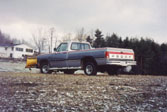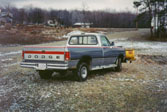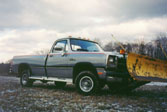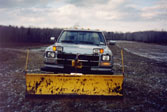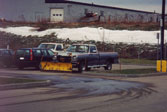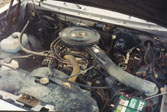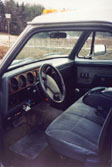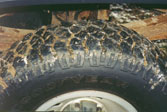 ---

Back to Jon's home page

Jon N. Steiger / jon@jonsteiger.com