1978 Dodge B100


This is my 1978 Dodge B100 custom van, acquired from fellow DML member Bob Tom. Bob originally ordered the van stripped, with a 318, and was responsible for the conversion which includes a bed, swivel captain's chairs, cabinetry, a hardwood floor, carpeting, etc. He also swapped out the 318 for a healthy 340. The van had been sitting for a while by the time I got it in the fall of 2005. Bob kept the 340 but I've got a good number of parts from the original 318.

My plans for this one could change, but basically I intend to put it back to the way it was when Bob built it in the late 70s, with the possible exception of a color change. There are a few rust issues that need to be taken care of, it needs a repaint, and some mechanical issues need to be addressed, including the motor, naturally. Speaking of which, this is the area of most uncertainty. I do have many of the original 318 parts, but if I go the 318 route, I'd probably be better off with the Magnum version. I might use the original short block and convert it with Magnum heads, or maybe if I come across a complete 318 or 360 Magnum, I'll just drop that in. Or, I might stumble across a 340 to use. Its tempting to think about dropping in a big block, but the engine bay is so cramped that this would just be asking for trouble.

Whatever motor I end up with, I will probably use the Megasquirt EFI system for fuel.

I haven't had a chance to dive into this one yet, but I am hoping it will essentially involve little more than a refreshening. A new motor, some mechanical maintenance, a little bodywork and a repaint, and hopefully it'll be good for another 30 years.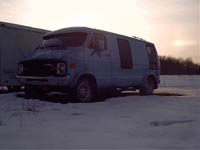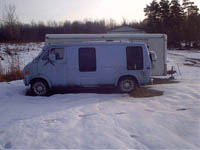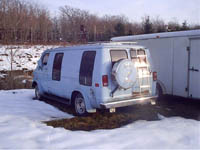 ---

Back to Jon's home page

Jon N. Steiger / jon@jonsteiger.com