My 1970 Dodge Dart Swinger


This is my 1970 Dodge Dart Swinger. Its a 2 door hardtop, powered by a 318ci V8 in front of a 904 3 speed automatic transmission. The engine and trans are original to the car (numbers matching), but the rearend had been upgraded to an 8.75" at some point; its got 3.55 gears and a Sure Grip diff. The engine has a set of 340 heads, but is otherwise stock, except for the starter, which I have replaced with a modern mini-starter after the original died on me.

It is a factory A/C car. The original radio didn't work very well, so I replaced it with an AM/FM/CD/MP3 head unit.

The car is completely rust free; the previous owner purchased it from a friend who had it stored in a barn for about a decade; the only rust issue on the car was a rear quarterpanel which had been damaged in an accident. The previous owner stripped it down to bare metal, replaced both rear quarterpanels and repainted the car in its original B5 blue color. Its not a professional job, but adequate for a driver/cruiser. The previous owner also replaced all of the windows with a set of factory tinted glass. This glass came from another Dart, it has a slight blue tint to it, and like I mentioned, is a factory item (although it wasn't ordered on this car.) When the previous owner installed the rear quarterpanels, unfortunately he didn't drill the holes for the Swinger emblems. I've got the emblems that came off the car, so I'll need to do that at some point. Just for looks, I added a flat black Bumble Bee stripe and a set of hood scoops.

This car is just for driving around and having fun. I don't really have any big plans for this one, just to drive and enjoy it. I'm thinking about driving it down to Carlisle; I have yet to make that trip in a vintage vehicle, and so far, this one seems like its reliable enough to make the trip without a lot of worries.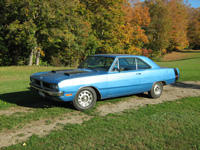 You might also be interested in the 1967-1972 Dodge Dart Identification Guide




---

Back to Jon's home page

Jon N. Steiger / jon@jonsteiger.com